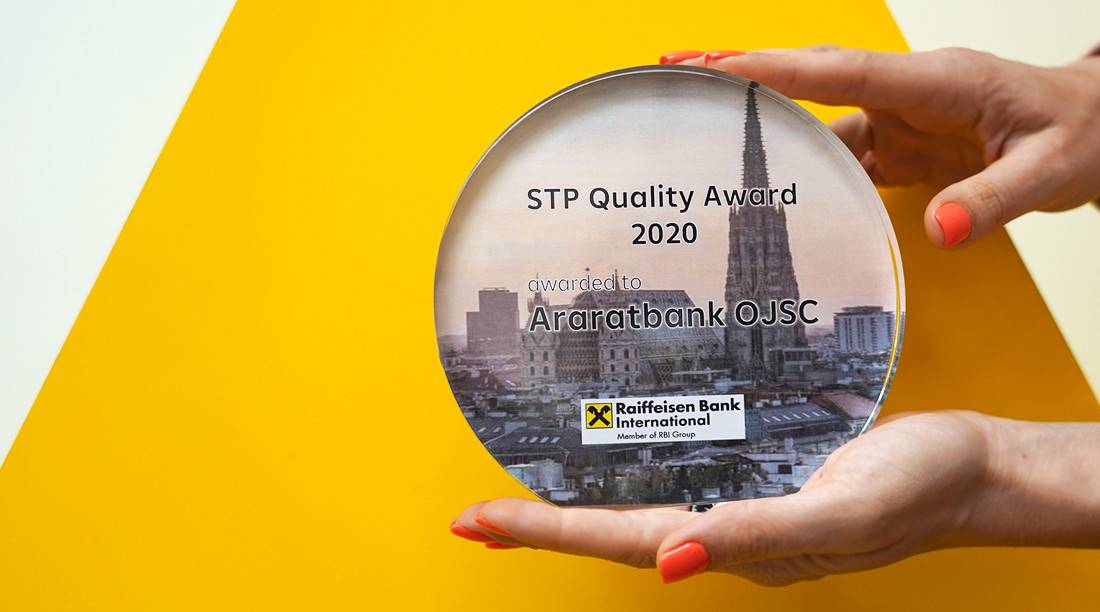 24.03.2021
ARARATBANK honored with STP Quality Award 2020
For the eighth year running, AraratBank has been honored with STP Quality Award by Austria-based Raiffeisen Bank International AG. This award is given to the best partner banks in different countries of the world for ensuring high quality and quantity standards in the field of SWIFT transfers. AraratBank processes international transfers through STP (Straight Through Processing) automated solutions, which ensure maximum speed of the payment process.
"A rich experience of mutually beneficial cooperation has been developed with Raiffeisen Bank over the years, enabling the use of a wide range of financial instruments offered by the foreign partner and arrangement of regular training programs for employees. Consequently, the Bank succeeded in an on-going improvement of the service quality and toolkit, taking a unique place in the RA financial market.
The Raiffeisen Bank award is both inspiring and binding. We are grateful to our partner for such a high appreciation" commented Zaruhi Melkonyan, Head of International Operations Department.
Subscribe to news
Page updated 25.03.2021 | 10:54
In case of discrepancy between Armenian and English versions of the information, the priority is given to the Armenian version.